AMERICA & ALLIES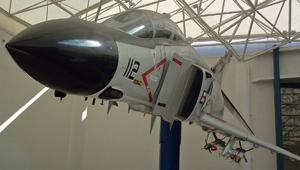 From August 1965 the US Air Force changed from bare metal to a three colour camouflage scheme of medium green, dark green and tan. B-52s used blue green instead of the medium green. Radar equipped types had black radomes. The majority had very light grey undersides but some ground attack planes had a 'wrap around' scheme which had the camouflage colours continuing underneath. B-52s had black under surfaces, sides and fins. Land based USMC fighters had the same camouflage as the USAF.
Light planes and helicopters were normally olive drab, though larger types often had the three colour scheme. OV-10s were grey except in the Marines who stuck with dark green.
The standard US Navy and Marine scheme was light gull grey uppers with gloss white undersurfaces and either gloss black or white radomes; as per the photos of the F-4 above (San Diego Air & Space Museum) and F-8 to the right (Intrepid museum ship, New York). Almost all carrier planes sported flashy unit markings such as red and white sunrays, lightning bolts etc. Helicopters were either gull grey or gloss blue.
South Vietnamese planes used the US three colour scheme, but with red and yellow bars on the national markings and Australian Canberras were camouflaged in a medium grey and dark green disruptive pattern and had a red lightening flash on the fin.
NORTH VIETNAM
Fighters generally came in standard Communist bare metal. Occasionally a stippled green, brown &/or tan camouflage was applied on top of the metal and MiGs sometimes sported various ad hoc schemes, normally based around dark green. All carried North Vietnamese Air Force stars and prominent 'bort' numbers (nose ID numbers) in black or red.